RESIDENTIAL & COMMERCIAL for Sale & for Rent
Real Estate to suit your needs!
DORVAL corner lot  to  develop 102 ' x 104' irr.

Great location to build the house of your dreams

Zoning: Single-family, duplex, triplex, multiplex, and long-term residence possible

PLEASE CONTACT FRANK GIAMMARIA at 514-926-1342 for more information.

---

Centris 26794936
AT SELLER'S REQUEST, location and financial details are to be kept strictly confidential and released only when a potential buyer has presented proof of funds and/or a confirmation letter of purchasing ability accompanied with a duly completed and signed Non-disclosure agreement.
PLEASE CONTACT PALMA MARGUGLIO at 514-880-4475 for more information.
---
THIS BUSINESS / ICE CREAM SHOP / COFFEE SHOP

SOLD BY ANGELO MARGUGLIO & PALMA MARGUGLIO
BUSINESS SOLD  FINE CUISINE RESTAURANT
Terrebonne, QC
Well furnished and equipped
____________________________________________________________________
SOLD BY HOANG KHOI NGUYEN
BUSINESS FOR SALE – RESTAURANT
Montréal, (Rivière-desPrairies/Pointe-aux-Trembles)

H1B 2Y3

Excellent Business. OWNER IS RETIRING!!!
---
SOLD BY HOANG KHOI NGUYEN
VACANT RESIDENTIAL LOTS 100′ x 200′
Mascouche, MASCOUCHE HEIGHTS Region

J7K 3C2
---
SOLD BY ANGELO MARGUGLIO AND PALMA MARGUGLIO
Anjou (Montréal), Québec  H1M 
---
Third floor Condo fully renovated
4 1/2 with 2 closed bedrooms 
Interior Garage, Lots of storage, Two balconies
SOLD BY PALMA MARGUGLIO AND ANGELO MARGUGLIO
Condo on 8th floor FOR SALE
Two bedrooms, Common areas all open.
One interior garage
Total living area 1 1775,57 sf
SOLD BY ANGELO MARGUGLIO AND PALMA MARGUGLIO
COMPLETELY DETACHED DUPLEX 
Montreal-North

H1H

Driveway for one automobile
---
SOLD BY HOANG KHOI NGUYEN
Montreal-North Semi-detached Cottage
Three driveways, garage & big yard
Seller must buy PLEX before selling
Situated near Gouin, National Park, river, bike paths and easily accessibility to metro & Laval
---
SOLD BY ANGELO MARGUGLIO & PALMA MARGUGLIO
Montréal-Nord
Montréal  H1G
---
2 x 4.5 plus garage
Semi-detached
SOLD BY HOANG KHOI NGUYEN 

Villeray/St. Michel
Montréal  H2E
---
Residential & Commercial Duplex FOR SALE
Storefront and 4 1/2
Situated corner of Fabre Street
SOLD BY HOANG KHOI NGUYEN 

Montréal (Pointe-aux-Trembles, Bout de l'Ile), Québec
H1A
---
Big Corner Street Cottage
5 bedrooms: 3 + 2 in finished basement
SOLD BY PALMA MARGUGLIO AND ANGELO MARGUGLIO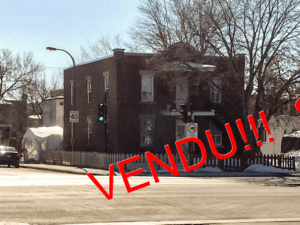 St-Michel (Montréal), Québec

H1E 
---
Corner Street Property

Close to amenities

SOLD BY HOANG KHOI NGUYEN
Ahuntsic 
(Montreal), Quebec  H1G
Duplex steps away from Cremazie Metro Station
Two units, 5 1/2 each with garage accessible from backlane
SOLD BY PALMA MARGUGLIO AND ANGELO MARGUGLIO
Villeray Duplex near multitude of amenities
Main floor available at signing deed of sale
Main floor has been upgraded
Parking and garage accessible from lane into yard
---
SOLD BY ANGELO MARGUGLIO AND PALMA MARGUGLIO  
Montreal-North, Quebec
H1G
---
Bloc Appartment Building  including 6 x 4.5
Detached Building
SOLD BY PALMA MARGUGLIO AND ANGELO MARGUGLIO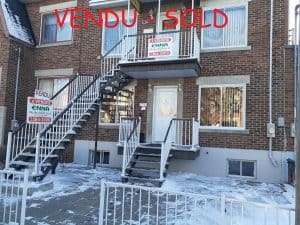 Montréal (Villeray/St-Michel), Québec
H2A 3K6
---
2plex : 2 X 4 1/2 with garage accessible from the lane.
Basement semi-finished: 6'5 high
SOLD BY PALMA MARGUGLIO AND ANGELO MARGUGLIO
Montréal (Ahuntsic), Québec
H2N 
---
Triplex all rented
Basement available to Buyer
Located just 1 km from Cremazie Metro Station
SOLD BY PALMA MARGUGLIO AND ANGELO MARGUGLIO
Saint-Leonard Duplex with two single garages
Spacious 40′ X 35′
Both units have leases up to 2021-06-30
Situated near all the services
---
SOLD BY FRANCESCO GIAMMARIA
Montréal (Pointe-aux-Trembles), Québec
H1B
---
SEMI-COMMERCIAL PROPERTY in Montreal
5 PLEX: with two residential units
SOLD BY ANGELO MARGUGLIO AND PALMA MARGUGLIO
Montréal (Ahuntsic), Québec
H3L
---
3plex presently exploited as Residential units may be reconverted to commercial zoning
Buyer may possibly occupy one unit
SOLD BY FRANCESCO GIAMMARIA
Nouveau-Rosemont 
(Montreal), Quebec
H1M 
---
Spacious 4plex with double garage and big driveway
Dimension of Property 40′ X 44′
SOLD BY PALMA MARGUGLIO AND ANGELO MARGUGLIO